As I explained in my post on the Worldwide Epidemic of obesity and diabetes known as the Metabolic Syndrome, high sugar intake, usually 10 lbs per year or more is associated with development of the metabolic syndrome.  Once someone develops the Metabolic Syndrome they can no longer tolerate a diet high in carbohydrates or they will become obese and are a high risk of developing among many other things Diabetes, Heart Disease, Cancer, Alzheimer's Disease and……Low Testosterone Syndrome, Late Onset Hypogonadism (Shrunken Testicle), and development of Varicoceles (a cluster of varicose veins in the Scrotum which raises temperatures interfering with both sperm and testosterone production in the testicles).  As a result the sperm counts in men's semen around the world have been falling dramatically since 1970 which corresponds nicely to the government's first dietary guidelines that said nothing about sugar but gave birth to a myriad of "Low Fat" products where sugar replaced fat to make them more palatable with the poster child for this movement being "Snackwells".  Here's a chart of the falling worldwide sperm counts from this article.  Here's an article linking obesity (the hallmark of the Metabolic Syndrome) to low sperm counts.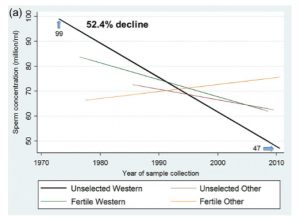 This interesting study documents the precipitous rise in 2 testosterone related conditions associated both with the metabolic syndrome and lower fertility, vitality and sexual performance:  Late-Onset Hypogonadism (LOH, atrophied testicle in late life) and Androgen Deficiency (Not enough Testosterone) both of which I saw on a regular basis when I was a family doctor treating patients with the metabolic syndrome.
 There is another cause of poor sperm and testosterone production by the testicles in the scrotum called a Varicocele.  A Varicocele is a cluster of enlarged varicose veins that form in the scrotum of people with the Metabolic Syndrome as this article shows.  The testicles are designed to produce the most sperm and testosterone at a body temperature a couple of degrees lower than normal body temperature.  That's why they hang down low during the heat of summer to cool off and pull themselves up tight against the body using the cremaster muscle in cold weather.  Having a varicocele is like having a steam heat radiator in the scrotum that never shuts off and they are associated with low sperm counts.
As this study shows Erectile Dysfunction (the inability to get an erection) has also been linked closely with the metabolic syndrome.  There are many abnormalities in people with the metabolic syndrome that may be involved, my money would be partly on the low testosterone levels found in men with the metabolic syndrome but more strongly on the increased uric acid levels found in men with the metabolic syndrome.  To explain why people with metabolic syndrome have high uric acid levels

as this article shows

you have to understand what happens in the livers of people who are insulin resistant and being insulin resistant is the definition of the metabolic syndrome.  First uric acid is just 2 ammonia molecules (NH3) that the liver has stuck together through an enzymatic process and most uric acid is filtered by the kidneys and goes out of the body in our urine giving urine it's name.  The reason insulin resistant people have high uric acid levels is this.  When sugar levels are low the liver will turn extra amino acids from protein into glucose in a process called gluconeogenesis.  The liver strips an ammonia molecule off each amino acid leaving the sugar base which is converted into glucose.  Now when you eat food that has sugar in it your body releases insulin telling the liver to stop make sugar from amino acids.  However in people who are insulin resistant the liver doesn't hear the message and goes on making glucose from amino acids and a lot more uric acid builds up because of all the extra ammonia.  The medicine Metformin works primarily by shutting down this  sugar production from amino acids in the liver.  The link between Uric Acid and Erectile Dysfunction is this.  Erectile dysfunction is dependent on Nitrous Oxide to relax the smooth muscle valves around arteries that carry blood to the erectile tissue in the penis.  Viagra and Cialis work by enhancing the action of Nitrous Oxide on the receptors in the smooth muscle.  Here's a quote from this article:
"Viagra does not cause a man to be sexually aroused. Viagra is only effective if you are sexually aroused. To understand how it works you need to understand the mechanics of how a man gets an erection. When you get sexually stimulated, the nervous system in the erectile tissue of your penis releases nitric oxide (NO).
The nitric oxide stimulates an enzyme that produces something called a messenger cyclic guanosine monophosphate (cGMP). The cGMP relaxes the smooth muscle cells. One result of this is that the arteries in your penis dilate and the blood can flow into your penis more easily. Another result is that the erectile tissue itself fills with blood. Both of these process result in an erection. Viagra works by maintaining the level of cGMP in the smooth muscle cells.
If you are not turned on, your brain will not stimulate the release of any nitric oxide and you will not produce any cGMP."
 As this study shows Uric Acid throws a monkey wrench into the erectile mechanism by destroying much of the nitrous oxide production all over the body leading to the inability to relax smooth muscle in the arteries (leading to high blood pressure) and in the penis Erectile Dysfunction.
These conditions define the Metabolic Syndrome:  abdominal (central) obesity, high blood pressure, high blood sugar, high serum triglycerides and low HDL Cholesterol Levels.  In randomized controlled trials a low carbohydrate, high fat diet has been shown to cause improvement in all 5 conditions.  Click on the condition to see the study:
If you want to avoid the Metabolic Syndrome and all the problems it brings it only makes sense to eat a low carb, high fat diet based primarily on animal products as the humanoid line has evolved to do for 2 1/2 million years.  Farming has been around for 10,000 years and it has been a disaster for health and the rise of sugar use over the last 200 years has been a disaster, especially for people eating a starchy diet of any kind.  Eat healthy meat and fish as the main part of your diet and supercharge your performance as a male.  I can personally attest that my performance and libido have steadily improved during my 7 years on a low carb, high fat diet.
If you would like to discuss this further or have other data, please join my Facebook Group "Zero Carb Doc", email me at ZeroCarbDoc@gmail.com or comment on this post.