Day 1 – Low Carb Breckenridge 2017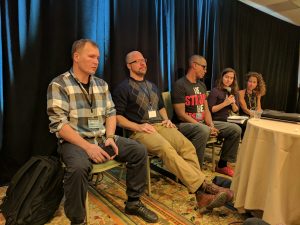 I didn't get enough sleep last night so I was somewhat deficient in getting pictures – apologies.  I need to get to bed early so I'm just going to give my impressions of the lectures I heard and thanks for looking at my blog!
The morning lecturers were from left to right: Michel Lundell, Jamie Caporosso, Darryl Edwards, Laura Saslow and Maria Emmerich.
First up was Laura Saslow, Phd.  A professor of nursing who had done 2 very successful randomized trials of using low carb to treat adult diabetes and is almost through a third.  She randomizes between low carb, high fat and the ADA diabetes diet and also randomizes other factors like encouraging emails, self image training, sleep hygiene training and exercise.  Basically 75% of the LCHF patients reached goal and only 25% of the ADA diet patients.  The catch phrase she used that stood out was "Keep Calm and Keto On" 🙂
Jamie Coporosso is a highly experienced strength coach and personal trainer who does a low carb, high fat, ketogenic diet.  Here's link to his blog.  He is doing some research and has developed an app to help people follow a ketogenic diet called KetoCheck.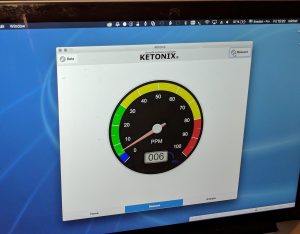 Michel Lundell is an engineer who invented the Ketonix Breath Ketone Analyzer.  He gave a nice lecture on measuring ketones and it turns out the advantage of his analyzer is that it measures acetone, unlike the fingerstick meters which measure Betahydroxybutarate (BHB).  With fingerstick meters the reading can be very low even if you are in ketosis while the Ketonix meter will only be positive if you are truly "in ketosis". If you are interested, here is a link.  I blew a 6 ppm which showed I was "in ketosis".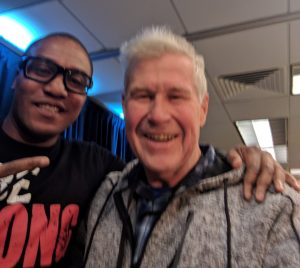 Darryl Edwards is a "force of nature".  He went low carb, high fat, keto 14 years ago and also developed a passion to share his love of fun, movement driven exercise which he calls "Primal Play".  Here's a link to his blog.  He has written 3 books and he is methodical about documenting studies to support his assertions.  He showed us studies showing that exercise improves stress, mood, sleep, blood glucose, insulin levels, the Cholesterol Profile, cognition, memory, bone strength, balance and gives a 50% decrease in the chance of dying from any given cause.  (All cause mortality).  You get these benefits for 150 minutes of exercise plus 2 resistance training sessions per week.  With his charisma and clear way of explaining things he is going to help a lot of people in his life.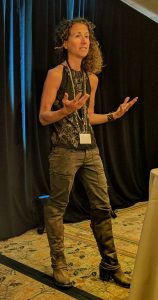 Maria Emmerich is another "Force of Nature".  I was exhausted just listening to all the things she accomplishes including Home Schooling 2 lovely children, directing a husband, blogging, writing cookbooks and touring to lecture.  Some of her creations wouldn't work for a recovering sugar addict like myself but would be great for someone who would not be able to give up carbs if they couldn't have sweets.  She feels a ketogenic diet is good for mental health and calls it "The Happy Diet".  She has a lot of recipes available on her blog here.  
After lunch British physician, Tommy Wood, MD, PhD who trained at Oxford and Cambridge gave a very interesting lecture on bacterial lipopolysacharide (LPS).  This stuff is known to cause us to gain weight when it gets in our blood streams and increases inflammation. It increases insulin and leptin resistance and our risk of heart disease through it's pro-inflammatory actions.  His theory based on an increase in LPS levels in mice feed a high fat diet and observational studies in humans is that people who fail on low carb, high fat diets may have overgrowth of these bad bacteria in the gut and may need fasting, low fat and increased fiber.  The mice were fed lard mixed with corn oil and hopefully everyone knows how I feel about seed oils by now.  Also mice are herbivores that get very little fat in their diets naturally so I'm remaining interested but skeptical for now.
Then we had a kindhearted family doc from England named David Unwin who 25 years ago listened to the patients who were having amazing success with low carb high fat and was converted.  He has volunteered with an online diabetes support group that has grown and developed a sophisticated online program to treat diabetics with low carb, high fat and currently has 185,000 people enrolled from all over the world.  It gave everyone so much hope to hear their successful story.  PS I shouldn't forget to mention David's wife eve, a Psychologist who has designed a psychological support program to enhance the diabetes program.  Charlotte Summers runs the program and gave us a detailed description.
Zoe Harcombe who had a study published discrediting the large meta-analysis they tried to use against Dr. Tim Noakes of South Africa in his trial for "recommending unconventional medical advice" gave a blow by blow description of how the trial progressed.  It was quite humorous in places.  The verdict will be given April 21.  Let's all cross our fingers the panel is honorable.  Here's her blog link.
And the day ended with Nina Teicholtz explaining in painful detail how large corporations interfere in medical research and official nutrition guideline formation.  It was unfortunately quite depressing.  I can't recommend her book "The Big Fat Surprise" too highly!  Here's a link to her website.  
I'm going to get some sleep!  Talk to you tomorrow.