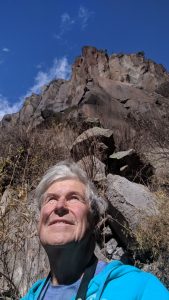 Hi, my name is Paul Mabry.  I'm a retired Family Medicine doctor born in 1950 so I've seen a lot of things in my life.  The Reader's Digest biography is that I was born inTexas farming country outside Houston, moved to a top notch School District when I was 12, Joined the Navy when I was 19 and was trained as a Russian Linguist, spent 3 years in Japan flying on EC-121s/P3's and crewing submarines to intercept communications along the Russian coast, worked at the Manned Spacecraft Center in Houston for 2 years to support the Joint Space Mission with the Russians called "Apollo-Soyuz", went back to college winding up with 3 degrees (BA in Spanish Literature, BS in Biology and a BS in Medical Technology).  I then completed Medical School rejoined the Navy and did my Internship at Bethesda Naval Hospital.  After 9 years as a doctor in the Navy including a deployment to a field hospital in the Saudi Desert during the First Gulf War I returned to civilian practice to give my autistic daughter more stability and completed a Family Medicine Residency at St. Clare's Hospital in Schenectady, NY.  In 2001 I joined the New York Army National Guard and did 2 deployments to Iraq, 1 deployment to Afghanistan (almost 2 years total in combat zones).  I switched to the active duty Army and retired with 26 years of total service.  I have since had a career writing and producing Audiobooks under the pseudonym "Somerset Hamilton".  You can hear samples of the 5 Audiobooks I have for sale on Audible.com and iTunes at

THIS LINK

.  I have just taken a job as a Junior Varsity Tennis Coach at Rio Rancho High School near my house.  This year I attended both national low carb conferences (Breckenridge and San Diego) and summarized the presentation of every speaker which

you can view here

.   I play my piano at least an hour a day (

Here's a 2 minute video

I made of my wife and daughter feeding the duck while a fierce predator cat stalks them, that's me on the piano too), play tennis 3-4 times per week minimum , hike frequently in local parks including 3 trips to the top of the Sandia Mountains overlooking Albuquerque  with my daughter this summer (which is a minimum 7 mile, 4,500 ft vertical rise hike), work on old cars and motorcycles (I did this video on replacing the Cam Position sensor in a 2008 Aveo that to date has 144.565 views), and blog on health and nutrition topics among many other hobbies.  At 67 years young all this activity is fueled by a high fat, moderate protein Zero Carb diet plus intermittent fasting.
Gallery
Starting the VW engine for the first time.
Now is the time